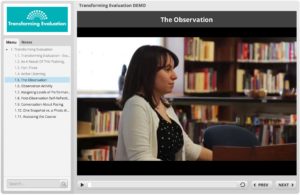 Discover how the evaluator's role as a collaborative coach can transform the teacher evaluation process into a powerful learning tool for the teacher and impact student achievement.
This on-demand course is accessible from a computer in your home, office, or other location, your tablet or smartphone; whenever and wherever it is convenient for you. The course provides a self-paced interactive examination of an evaluation process in which reflective conversations occur between teachers and staff supporting their professional growth. There are many benefits including:
Increase your leadership skills as you discover how to create a research-based teacher evaluation system that incorporates collaboration as an integral component.
Refine your observation skills as you distinguish between frequently confused components of the Danielson Framework for Teaching or customized based on your evaluation framework.
Learn how to use best practices for conducting observations; collect unbiased evidence of instructional practice; align and analyze evidence, and recognize differences in levels of performance.
Create a collaborative setting for pre/post observations as you find out how to integrate coaching questioning strategies and reflective feedback into the evaluation process.
Use questioning stems in professional conversations and practice providing focused feedback to improve instruction.
Apply what you learned by reviewing evidence from observations of classroom teachers and being a part of a complete formal observation process of a specialist.
View the pre-observation conference, observation and post-observation conference.
Compare the strategies you would use with what was actually done.
Throughout the course, you will have the opportunity to check your understanding, apply what you have learned and get feedback from the many application activities interwoven into the class.
The six-hour online course provides valuable professional development for evaluators at any grade level. It is a great way for school districts or state organizations to increase inter-rater reliability. Discounts are available for large groups.
The cost is just $300 and provides 24/7 access for up to two months after course sign up.
To sign up, contact the Consortium for Educational Change Office at info@cecweb.org or by calling 630-495-0507.