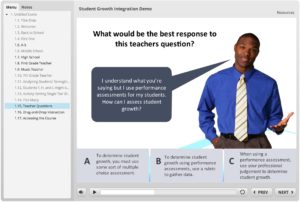 Improving student growth is the goal of all pursuits in education and should be the focal point for teacher evaluation. Discover, through this online course from the Consortium for Educational Change (CEC), how the evaluator's role as a collaborative coach can transform the teacher evaluation process into a powerful learning tool that leads to student growth.
In this interactive course, educators will learn how to use a proven cyclical method to integrate student growth into the evaluation process. This method demonstrates how seamlessly using growth data can be incorporated into a school improvement system by supporting teacher growth, as well as student growth.
As part of the course design, participants will act as evaluators and select a grade band to access interactive experiences tailored to their needs (elementary, middle or high school). From there, the course takes the participant through the student growth cycle while providing answers to many commonly asked questions about setting growth targets, student groupings, and instructional shifts during the cycle.
Among the many outcomes of the course, when completed participants will be able to:
Utilize the student growth cycle as part of an effective, efficient teacher evaluation process
Facilitate staff professional learning on the student growth cycle
Support teachers as collaborative data partners through the teacher evaluation process
Utilize student growth data to inform school improvement plans
The four-hour online course provides valuable professional development for evaluators at any grade level. The cost is $300 and the course is a great way for school districts or state organizations to increase inter-rater reliability. Discounts are available for large groups.
To sign up, contact the Consortium for Educational Change Office at info@cecweb.org or call 630-495-0507.