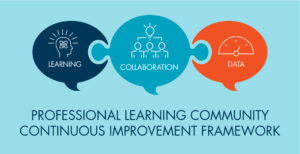 Use the term Professional Learning Community or PLCs with educators and you are likely to get a mixed reaction to their effectiveness. As the Boston Consulting Group recently reported, "While PLCs are prevalent, teachers are not satisfied with the implementation to date."
CEC provides a solution to that challenge by providing both training and coaching to make sure the investment in PLC collaboration time provides a return for students, teachers and the district.
CEC's training provides clarity in team expectations for PLC time, outlines roles and responsibilities for leader support, ensures professional development to give teachers confidence that the time they spend collaborating meets their daily needs in the classroom, and establishes timely feedback to make teamwork effective and efficient.  Districts that have partnered with CEC have shown improvement in team effectiveness, teacher satisfaction with collaboration time, and improved student learning results.
CEC offers training and coaching centered on the PLC Three Big Ideas to support the execution of these effective practices through classrooms, teams, schools, departments and the district.
Focus on Learning — Ensuring that All Students Learn: This training focuses on the alignment of curriculum, assessment and instruction. It helps teachers assist students in taking responsibility for their own learning through goal setting, progress monitoring, action planning and reporting.
Focus on Collaboration — Ensuring a Healthy and Collaborative Culture: This training helps to establish what everyone needs to do well together.  It helps to establish conditions and expectations for how teams work together.  It establishes strong partnerships with families and the district office.  If aligns performance expectations for teachers and leaders with the PLC expectations.
Focus on Results — Ensuring a Results Orientation: This training focuses on establishing a data system that allows for ease and user-friendliness in identifying student, classroom, team and schools academic and non-academic strengths and opportunities.  It provides a consistent process for individual, team, school and district accountability through goal setting and action planning.
To learn more or schedule a training with a consultant, please contact CEC at 630-495-0507 or at info@cecillinois.org.