Since 2011, 7 national organizations (AASA, AFT, CCSSO, CGCS, FMCS, NEA, NSBA) along with the U.S. Department of Education have been working together to support labor-management collaboration in states and school districts throughout the country to advance student learning. Based on the belief that supporting good governance of public education in our nation's school districts is a mutual responsibility, these organizations have jointly planned several conferences, and collaborated on creation of a document titled "On the Same Page." In addition, the organizations signed on to a co-created shared vision for transforming the teaching profession.
The first On the Same Page document was intended to serve as a tool to support state level agencies and district organizations in collaboratively developing a plan that sets direction and determines support for implementation of college-and-career-ready standards. Since the writing of the original document, college-and-career ready standards have been developed in a variety of content areas. The importance of working collaboratively for the good of our students and our country is of paramount importance as new standards continually emerge.
Our theory of action at the start of the collaborative partnership, as well as today as our country continues moving forward, is to continue listening to the field and responding to needs by jointly developing tools and resources in support of the work. Towards that end, a second edition of the original document, titled On the Same Page 2.0 has been collaboratively designed to support district, school, and classroom educators deeply understand and implement the intent of college-and-career ready standards.
On the Same Page 2.0, is provided as a guide for educational stakeholders to work at a district, school, and/or classroom level to deeply implement higher, more rigorous standards systematically and systemically. The ideas, suggestions, and actions provided in this document are not meant to be all-inclusive. This document is provided as a guide to trigger thought, research, and conversation around effective collaborative practice for design of a teaching and learning system capable of delivering on the promise made to the children of our country.
Explore the stages by clicking on the corresponding circle in the graphic below.
Collaborative Components of a System for Implementing College and Career Ready Standards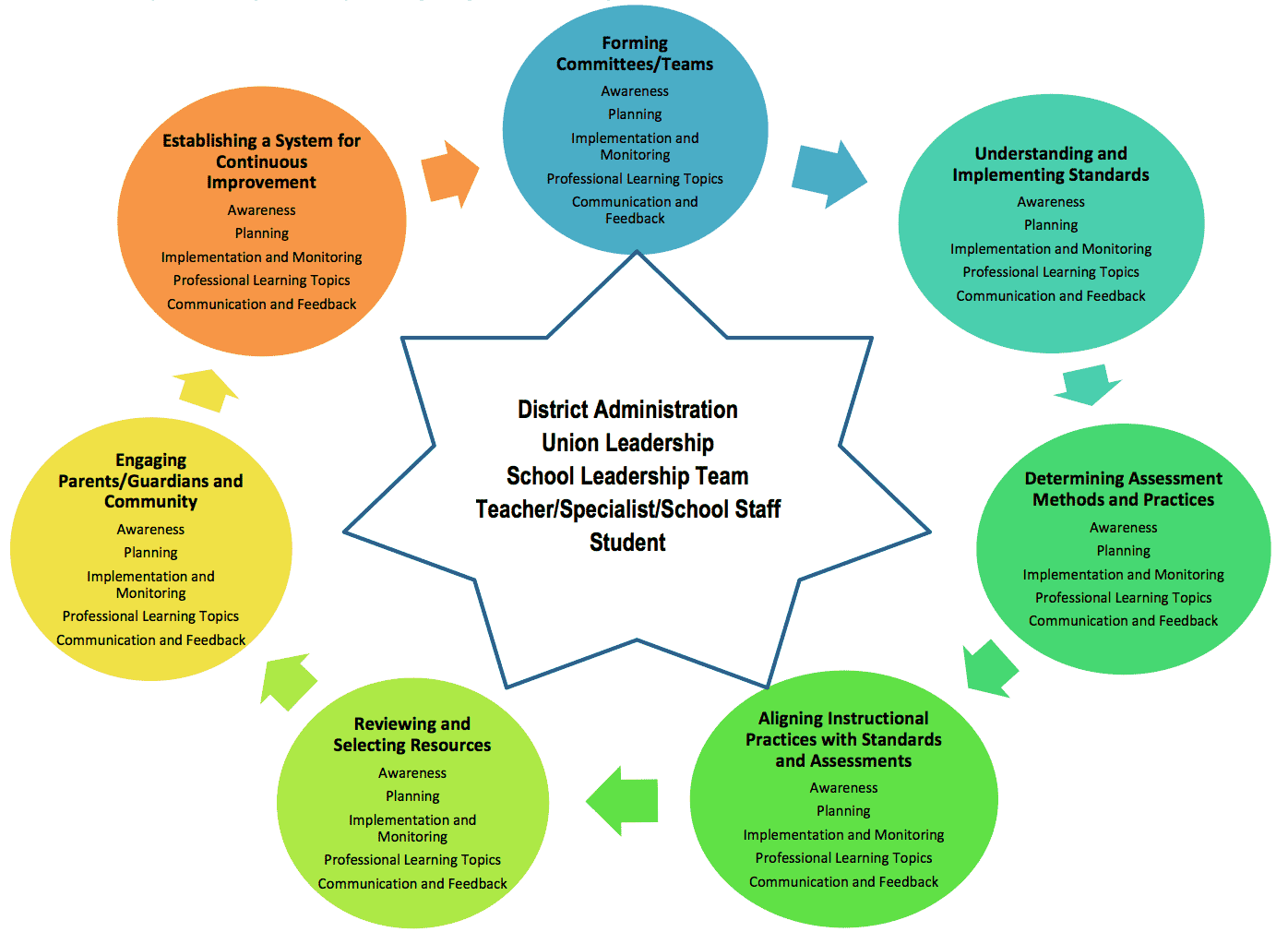 Awareness
Planning
Implementation and Monitoring
Professional Learning Topics
Communication and Feedback
Awareness
Planning
Implementation and Monitoring
Professional Learning Topics
Communication and Feedback
Awareness
Planning
Implementation and Monitoring
Professional Learning Topics
Communication and Feedback
Awareness
Planning
Implementation and Monitoring
Professional Learning Topics
Communication and Feedback
Awareness
Planning
Implementation and Monitoring
Professional Learning Topics
Communication and Feedback
Awareness
Planning
Implementation and Monitoring
Professional Learning Topics
Communication and Feedback
Awareness
Planning
Implementation and Monitoring
Professional Learning Topics
Communication and Feedback