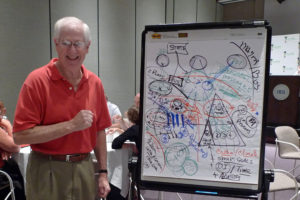 It is with heavy heart and great sorrow that we share the news that Dr. W. Patrick Dolan, a long-time friend, colleague and mentor, passed away at the age of 77 on November 29, 2016. Patrick struggled in the week's prior to his passing with a severe staph infection that invaded his system five weeks following his hip replacement surgery. His family was with him when he passed.
Patrick was a trailblazer on systemic change and a tremendous asset to CEC, the TURN networks, districts, schools and leaders in education and in many other disciplines. He was a preeminent consultant to labor and management, as he worked to open, clarify, and improve that relationship as a means to improving the work of organizations in the public and private sectors.
After serving in academic administrative posts at Georgetown University and St. Louis University, Patrick founded his own consulting firm in Kansas City, Missouri, in 1976.  For the next twenty years, the firm did pioneering work in labor-management change in large institutional settings.
The clients consisted of corporations such as Ford and Ford Europe, Goodyear, Republic Steel, John Deere, Boeing, General Dynamics, Cessna, and the Federal Aviation Administration.  The United Auto Workers, United Steelworkers, International Association of Machinists, United Rubber Workers, and the National Association of Air Traffic Controllers were also joint clients in this work.
In 1992, Patrick broadened the focus of his work to public education, always working from a joint perspective of union-management collaboration.  He consulted with the major teacher unions at national, state, and local levels.
Since 2004, Patrick led a consulting group that has supported the educational grant awards of the GE Foundation in seven major districts in the country. He has also been a frequent presenter and speaker at TURN conferences across the country as well as being heavily involved in the intensive work to improve labor-management collaboration in districts across the country with Mary McDonald and Ann Cummins Bogan.
Patrick's groundbreaking book on public education, "Restructuring Our Schools, A Primer on Systemic Change," is in its fourth printing.  In it, Patrick describes what large systems struggle to achieve: team effort, a focus on long-term quality, effective communication, and highly motivated students and employees.
Patrick will be greatly missed and CEC will carry on his legacy by continuing to work toward labor-management collaboration throughout schools and districts across the nation.