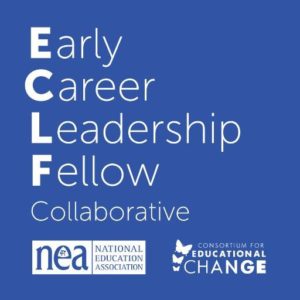 CEC recently received a letter from Christina Hollowood sharing the impact of the Early Career Leadership Fellow (ECLF) initiative, a collaborative effort between the National Education Association (NEA) and CEC, which connects early career teacher leaders to union leadership, particularly around professional and social justice issues.
The letter is shared in its entirety below:
Christina Hollowood
Clark County Education Association
Early Career Leadership Fellow Coach
February 24, 2017
Approximately 18 months ago I was approached by the president of CCEA, Vikki Courtney to take on the coach role in this new, as-yet undefined, program called the Early Career Leadership Fellow Collaborative. I didn't see myself as a leader of CCEA. I had attended some committee meetings, and been around for a while. Sure, I had gone to Delegate and Representative Assembly, but I was not the "leader" of the family in CCEA. I told her that I had to think about it, because I was nervous about taking on a new project, given some challenges I had at home. Ultimately, I decided to take on the challenge.
I had no idea what to expect that first day in Downer's Grove, Illinois. I didn't know any of the Fellows I would be "coaching" the next day (though I had sat next to one of them at a school board meeting that one time.) Aside from logistics (and cameras), I really just took in and tried to internalize the purpose and goals of this new program. Three frames of unionism. Sounding Boards. Leadership Engagement Action Project. Jenisha, Monica, Victor, Amekia, Tiana. Bear.
As the year went on I watched that group learn, grow, and do things they never knew they could do. From Downer's Grove, back home to Las Vegas, to Rockville, Maryland, back home to Las Vegas, and back to Downer's Grove, I did my best to herd my cats forward. As we sat around a table in Downer's Grove talking about next steps, I was profoundly changed as each was able to define their individual passion and what they wanted to direct their passion at.
To me and for our association, that was the ultimate success. We have five engaged early career educators whose voice is heard in every corner of our association. They may have found their way to a union meeting without this program, but they would tell you that THIS program made them the leaders CCEA needs. For me, I've realized that even without any "official" leadership title, I AM a leader. I have and need to use my own voice in my association. I have a responsibility to those who are new to the process to show them the way so that THEIR voices will be heard.