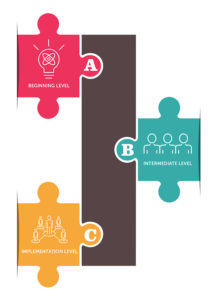 Co-teaching is a popular and frequently used inclusion service delivery model. However, because most teachers have not been trained on effective co-teaching strategies, the approach has had mixed results for most schools and districts.
Educators interested in using this best practice approach can gain the training needed to effectively implement a co-teaching inclusion model to maximize student learning for all students. The Consortium for Educational Change provides three options so schools and districts can to match a training to their needs.
Beginning Level Training: Application of Collaboration to Foster Inclusive Practices
In this training, learn how maximize the co-teaching service delivery option for students by combining the strengths of the general education teacher and the special educator to increase and improve differentiation and interventions before students are placed in a full replacement program. The foundations of best practice in co-teaching will be weaved into collaborative conversations and planning for co-teaching pairs.
Intermediate Level Training: Refining and Increasing the Capacity of Collaboration to Foster Inclusive Practices
This training develops a deeper understanding of the co-teaching service delivery option for students in an inclusive setting. Common issues found in daily work will be addressed and practical strategies explored to ensure the strengths of each educator are maximized. This session is designed for co-teaching pairs who are looking to push their current level of collaboration to the next level.
Supporting Leaders and Administrators to Implement Co-Teaching within the System
In this training, examine how the instructional approaches and design of the inclusive program can help enhance student outcomes and teacher success. A deeper understand of the components of program quality, effective shared practices, and ways to measure impact will be explored.
In addition to the three trainings outlined, professional development can also be provided by CEC experts in on-going, job-embedded support for educators and administration designed to provide more one-on-one coaching and mentoring of inclusive practices.
Contact Shelley Taylor at 630-495-0507 in order to learn more or to schedule a training.