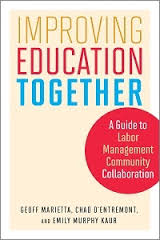 The guidance of the Consortium for Educational Change (CEC) is widely referenced in a new book titled Improving Education Together written by Geoff Marietta, Chad D'Entremont and Emily Murphy Kaur.
The book offers a step-by-step guide to Labor-Management-Community collaboration, an intervention that has successfully improved student outcomes in a wide variety of school districts across the country. The authors illustrate how a culture of collaboration between labor, management, and community stakeholders can be built using readily available tools for needs assessment, root-cause analysis, team norms, brainstorming, consensus-building, and long-term planning.
The benefits of CEC's system assessment process are outlined and described as a first-step toward labor-management collaboration in a school district. The book states: "The System Assessment uses best-practice research-based criteria of what a high performing school or district should look like." CEC Director Perry Soldwedel is quoted stating that district stakeholders must answer several key questions to determine readiness for collaboration. "Do we value and appreciate each other? Do we realize that unless we work together we are not going anywhere?"
CEC's work in LaGrange District 105 on a system assessment and ultimately strategic planning is highlighted in the book. Additionally, CEC's partnership with Rockford Public Schools 205 to implement interest-based processes is also featured in the book.
Finally, the research of CEC partners Saul Rubinstein and John McCarthy are referenced.
If you are interested in purchasing the book, it is available through Harvard Education Press and Amazon.com
If your district is interested in learning more about how CEC can help facilitate movement toward labor-management collaboration through a system assessment, strategic planning or interest-based processes, please contact us at info@cecillinois.org or by calling 630-495-0507.