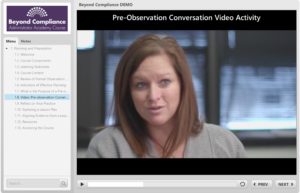 Principals, evaluators and peer evaluators who want to earn Illinois Administrator Academy credit while learning strategies for being an educational leader who works collaboratively with teachers to promote professional growth should sign up for CEC's Learning Network: Beyond Compliance online course.
The six-hour online course provides Illinois Administrator Academy credit for evaluators at any grade level. Teachers and other educators interested in learning more about the evaluation process are welcome to take to the course as well. This course was developed specifically for Illinois educators as it is aligned to the PERA requirements evaluation reform Act of 2010. However, educators outside of Illinois are welcome to take the course if they choose.
Participants have shared the following about the course:
"The academy was very thorough and detailed."
"The academy was well organized and hit the essential features."
"The video clips within each module were creative, of great quality and provided several examples that will benefit me as an evaluator."
The course provides a self-paced interactive overview and examples of an evaluation process in which reflective conversations occur between teachers and staff supporting their professional growth. Content includes practice activities to deepen understanding of the Danielson Framework for Teaching to increase accuracy of aligning instructional practice, distinguish between frequently confused components, and identify differences in levels of performance. The outcome is rich discussions about teaching strategies, differentiation, reflection and feedback … all with the goal of increasing teacher effectiveness.
The cost is just $300 (which includes the $15 AA credit fee) and provides 24/7 access for up to two months after course sign up. The live chats are available on a monthly basis and participants sign up for the time and date that best meets their individual schedule.
Districts interested in professional development for all evaluators in the system as well as to increase inter-rater reliability should sign up. Discounts are available for CEC member districts and/or groups of five or more.
To sign up
, contact the Consortium for Educational Change Office at 
info@cecweb.org
or by calling 
630-495-0507
.