CEC's School Improvement Grant (SIG) team specializes in helping persistently low-performing Illinois schools and their districts to implement comprehensive improvements. SIG funding comes from Federal Title I funds, and is awarded via a competitive application process at the state level.
As one of just a few authorized lead partners in Illinois, CEC provides extensive on-site support to SIG schools and their districts, specializing in helping schools implement SIG's Transformation Model. CEC's work in SIG schools reflects a focus on the potential of all students to learn and grow, and a related belief in the ability of all schools and districts to transform.
In Illinois, CEC has served nine schools across six districts as lead partner, and has also served as a technical support provider in three additional districts. Currently, CEC is serving as lead provider at Kennedy Middle School in Rockford District 205, Matheny-Withrow Elementary School in Springfield District 186, and Sandoval High School in Sandoval CUSD 501.
Here are some of the most recent results of CEC's work as a lead provider: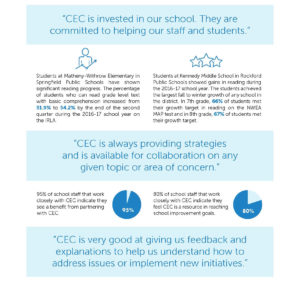 Contact: David Osta
More Partnerships & Initiatives